satins and doilies and beads! Oh My!
This is the part deux of our Roulston Arboretum shoot, the much drier and warmer part considering part one took place outside in rainy weather! When Brent and Anna of Live View Studios initially told me about doing this shoot with Beth, Brent mentioned that he had a few accessories to play around with from a local vendor that they had run across. I got to the shoot and was amazed, a 'few' was not even the word! Anna showed me this massive box full of fun surprises to play with and I was so excited to see all the different ways that we could show them off! All of these stunning floral pieces and bouquets were made by Kathy of Petals by KC.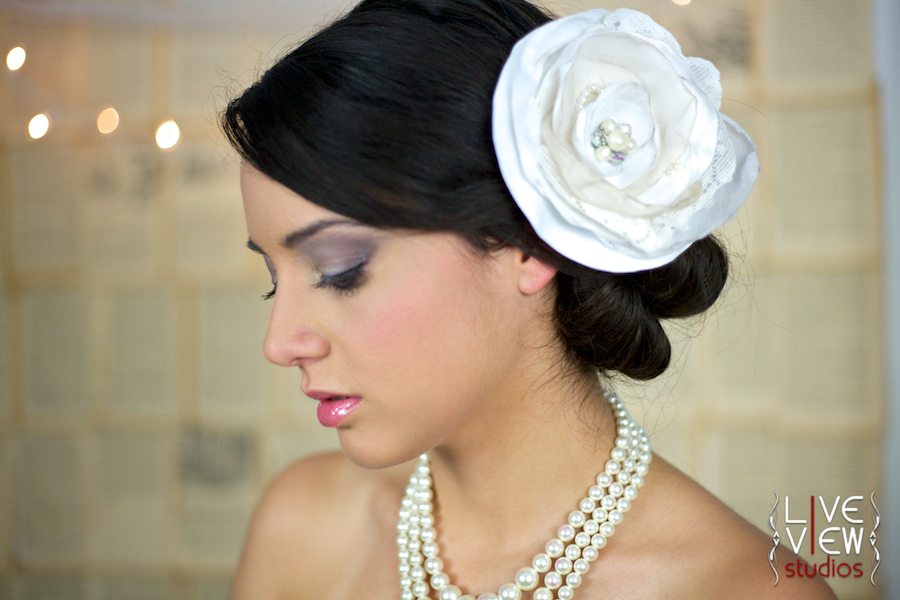 Now, let me tell you something about this wedding dress that Beth is wearing…she made it! I mean I used to make 'custom garments' for my Barbie dolls using rubber bands and safety pins but I couldn't imagine even trying to make a gown! Girlfriend has some talent for sure! The flower with the broach in the middle is not an original part of the dress, it's one of Kathy's creations that Anna and I thought matched the dress so perfectly that we just had to put it right on there!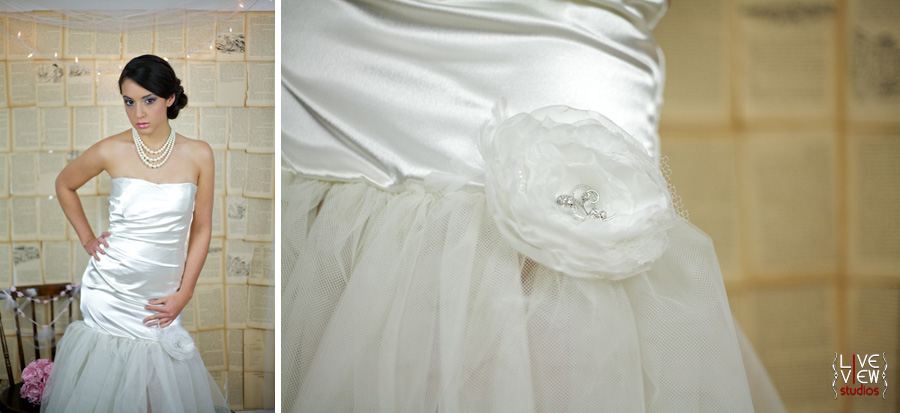 I just LOVE Beth's eye's in the next one! While she and I were fixing up her "I've just been caught in a rainstorm" look and giving her a sophisticated updo…yeah, I did that…Brent, Anna and Jeremy (Anna's brother) were in the other room destroying books for the sake of art, and I think it turned out so very cool!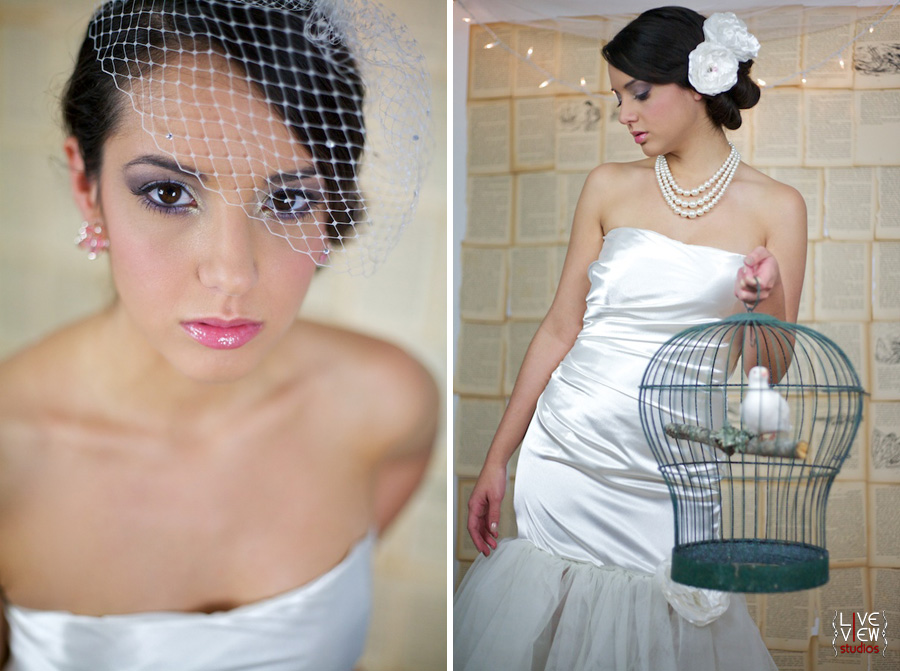 With Beth's makeup, I mainly touched up but I did incorporate a bit of brighter purple, added more of an antique gold in the inner corners of her eyes and a soft iridescent color right beneath her brows to open them up even more. Because we were going to be working with the pink bouquet, I chose a pink gloss in a tone a little brighter than the one we had used earlier in the day.
I may have gone a little flower crazy…she may or may not have three in different sizes in her hair here. They're just so pretty! Look at the gorgeous beading in each of them!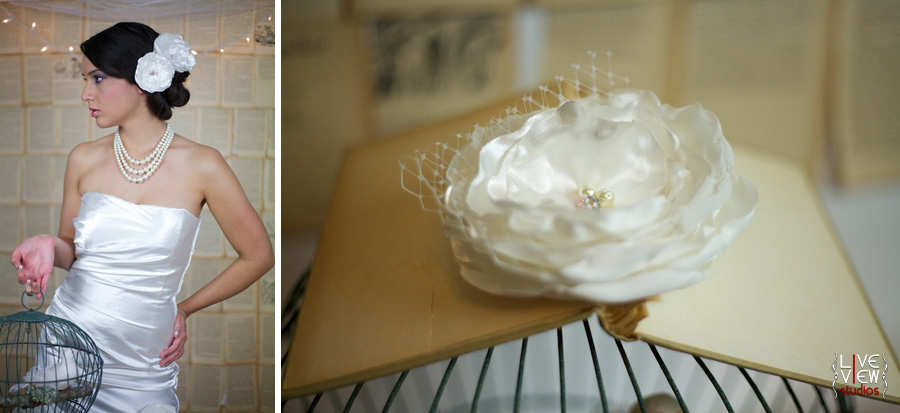 This one was my favorite because of all the different textures and materials used! I love the idea of using these creations instead of real flowers that can't be kept forever, the fact that these could become a family heirloom and passed down to a loved one is just beautiful! Be sure to visit Live View Studios to see detailed pictures of more of the collection.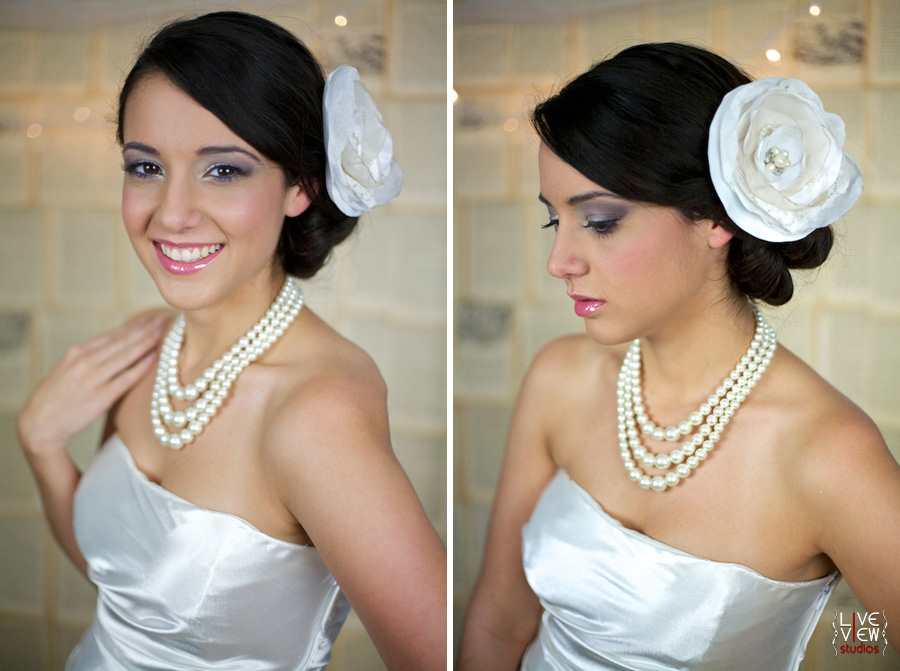 As always, shooting with Brent and Anna is so much fun and if you ever have the opportunity to work with them, jump on it! These people are absolute treasures! Beth, what can I say, you're lovely and I hope our paths cross in the future!
Ps…did anyone notice that I figured out how to do the linkadoodles!? yeah. all by myself too!
Photography: Live View Studios
Accessories and Fabulousness: Petals by KC