photoshoot in the drizzle? fo' shizzle
If you have ever had the chance to go out to the Raulston Arboretum in Raleigh then you know what a really enchanting place it is, you literally move from one place to another and you're in a completely different land…it's like the Disney World of Gardens! I recently had the most fun day with photographer couple, Brent and Anna as well as our model for the day, Beth. Talk about a trooper, Beth seriously had it rough, it was so cold and drizzly that day and she's frolicking about in this beautiful dress from J. Crew that's clearly not meant for this kind of weather! Granted the weather wasn't the best but we didn't want to cancel because this was already a reschedule what with all the tornadoes that decided to visit last month. We all were excited to just get to it so with a little help from some hairspray and waterproof mascara, I worked to keep Beth looking elegant even with a few frizzies!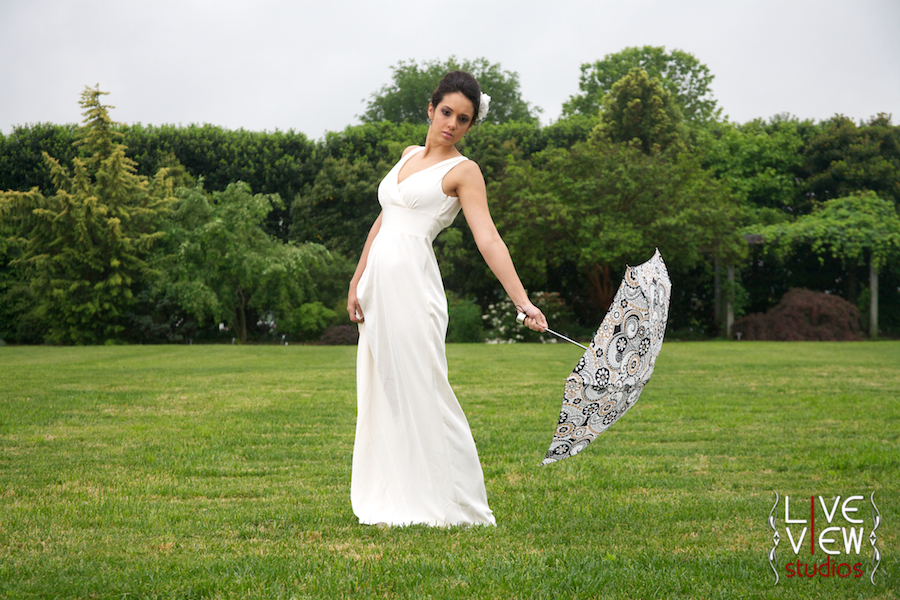 This field was so huge that it just begged to be danced in! I love how Anna's cute umbrella made it into this shot!
I wouldn't say that this is my absolute favourite photograph taken today but there's something intriguing about this particular shot. To me, it almost looks as if she's just gotten caught trying to run away. When I first saw it, I just loved it!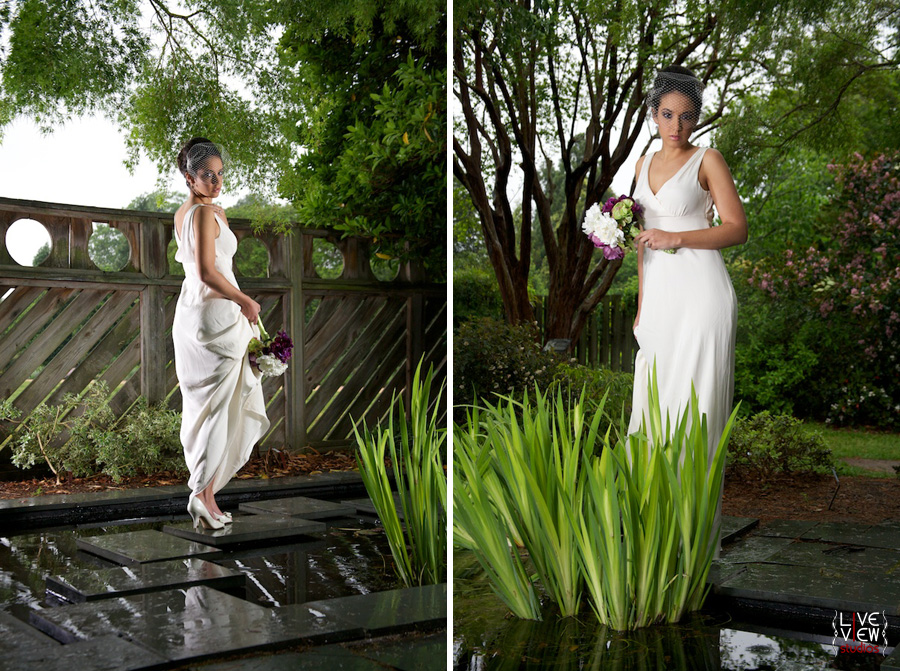 One of the 'places' that we visited on our little journey was a secluded little Japanese water garden, I like how the rainwater on the stones picks up the light for a little something extra.
For Beth's look I went with a traditional smokey eye, but instead of using a harsh black I used a beautiful deep purple to make her brown eyes stand out even more.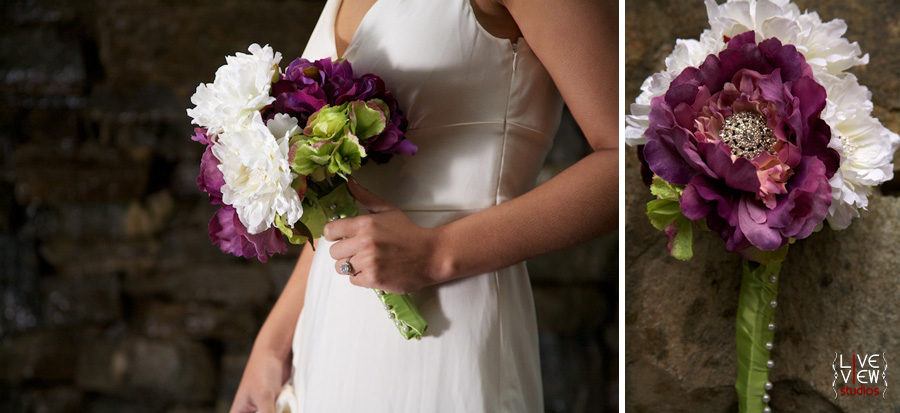 All of the hairpieces, flowers and bouquets featured in this post were made by a local artist called Kathy. She makes all of these by mixing various fabrics as well as gorgeous beads and antique broaches. We did some indoor shots on this same day that features so many more of her pieces so be on the lookout for that post as well! Plus you can buy her items through Etsy at http://www.etsy.com/shop/PetalsbyKC.
Here are some of the products that I used: YSL Creme De Blush in 2, Too Faced 'Romantic Eye' palette and stila smudge pot in violet. If you continue to read my blog, you'll see creme blush shows up a lot. It's quite possibly one of my all time fav products and I have several of them, they just give skin such a dewy and natural look that you don't often get with powder blush. It's very easy to apply to skin using a cheek brush, the key is just adding a little bit at a time and building up to the desired amount. Don't be scared by creme blush and try some today! Now generally I'm not one to traditionally stick to a palette because I like being a bit willy nilly with colors, but I did with this shoot. After I saw all of the accessories that we would be working with, I thought it was just about perfect! Too Faced palettes are one of my favourites for several reasons like their shadows are fantastic, they come with a variety of color and there's a little pocket that holds tutorial cards so that anyone can get a romantic look in either classic, day or fashion…how handy is that!? Here's a great closeup of the final result: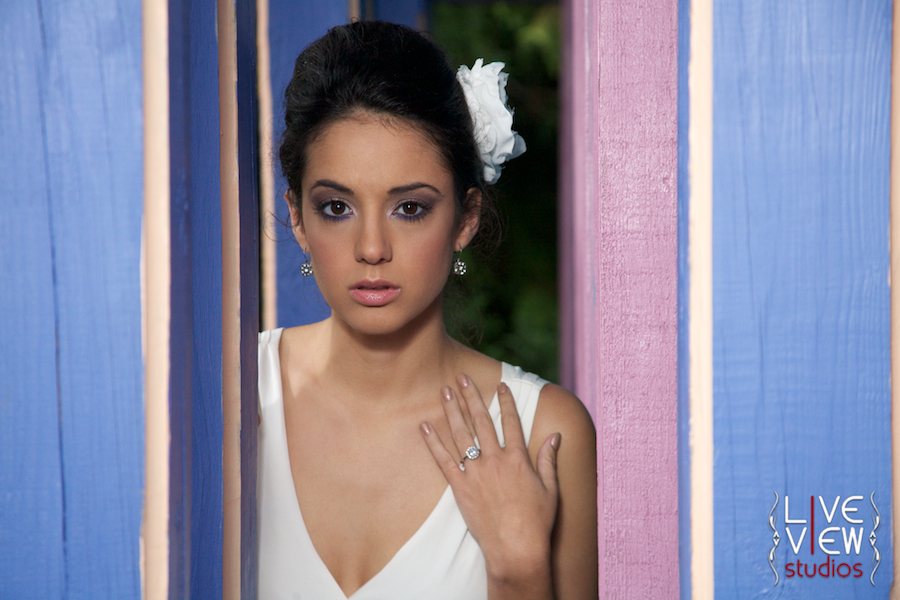 Cannot wait to work with y'all again soon and have another fun filled adventurous day! Be sure to take a look at the rest of the pictures at Live View Studio's Blog at http://www.liveviewstudios.com/wedding-couple-photography/to-the-end-of-the-world-beth/. And don't forget there will be a continuation of this day with a new dress, tweaked makeup and waay more accessories coming soon…and you should definitely be excited!
photographer: http://www.liveviewstudios.com/
model: Beth
accessories: http://www.etsy.com/shop/PetalsByKC
ps. I realize that there is a way to make these little linkies just say the word that I want them to and I swear I thought I knew how to do it but it is so not working. Bear with me as I learn wordpress, I promise it will get better…if only you knew how far I've come already!